Welcome to Touchpoints at Chestnut
Holly Giuditta-Deming
Administrator
Dear Residents and Family Members,
I would like to introduce you to Touchpoints at Chestnut. Our facility offers a variety of clinical programs to meet your individual needs. Touchpoints at Chestnut is a 60 bed facility that reflects a quaint Victorian bed-and-breakfast style home. We recently renovated the suites on our rehabilitation unit with individual HD televisions, private phones, recessed closets, and hardwood floors. We offer a Touchpoints Therapy Program, which is available to those who are recovering from an orthopedic procedure, cardiac recovery, pulmonary recovery, general medical or surgical procedure, wound care, intravenous (IV) therapy, or pain management.
Touchpoints at Chestnut partners with many healthcare providers in the community to provide consistent care from your hospital stay until the time you are discharged home. The clinical staff at our facility is well trained and delivers the most current and highest level standard of care. The Physical, Occupational, and Speech Therapists provide services seven days a week in our newly renovated rehabilitation gym. Continue reading

Specialty Services

iCare Heartbeat
All the latest news, discussion, and updates from the iCare & Touchpoints Rehab team.
Fresh River Healthcare held a well-attended Christmas Bazaar and holiday party that was fun for all ages. The residents and the staff and their families as well as members of the public came together to celebrate the season. Santa Claus was on hand to listen to the wishes of all the good boys and girls. Breakfast was served and money was raised for a good cause. All proceeds went to local Families affected by Parental Substance Use Disorder.
"This place is excellent. The people, really everyone, was excellent. The ladies from physical therapy and the gym area were excellent. I really enjoyed going in the morning after breakfast and after lunch to try and do exercise. There were two ladies in the gym room but I can't remember their names. One lady was born in France. They helped me exercise a lot. They always welcomed me anytime. The food, all of it was 5 stars. I am a music teacher and when I got better after going to Chestnut, they showed me a room with a piano and for the next two weeks during the meal times I would play the piano. I really enjoyed this place. I would rate that 99%. They took care of me excellently. I would recommend them always. I am really happy with Touchpoints. I met really nice people and residents. The most important thing for me was to be able to play the piano for the residents. I said I will even come back to play music for them."
~ Patient EK (August 2018)
"It was the best place in the world. All of them were kind and took care of me. I would rate them 100%. They were wonderful. I had so much fun there. I would eat and go out. I had a great time in the kitchen. I really liked it. I would recommend them there 100%. I would tell them they are the greatest place in the world. I wish I was still there. I would like to let the staff know they were great and I thank them for everything they have done for me."
~ Patient JV (August 2018)
"Touchpoints was recommended by one of my co-workers. Her husband had been there, and they were both happy. They treated him very nice. If he needed anything they were pretty prompt about getting him what he needed. He liked the people in general. He said they were all personable. He also liked the food. He said it was very good. I was very happy with it because he was there for Thanksgiving and they invited me to have Thanksgiving dinner with him and it was excellent. It would be very likely that I would recommend them. I would tell them that the staff was excellent, the food was excellent, and my husband was very happy with his stay there."
~ Patient JP (January 2017)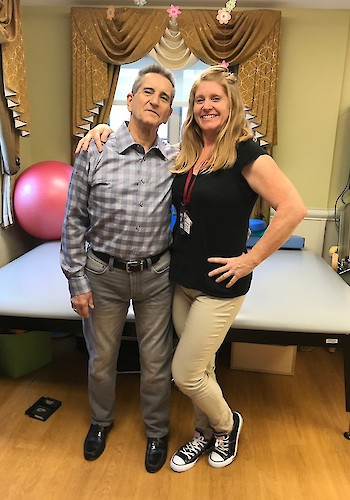 "When we arrived at Touchpoints at Chestnut we were greeted with warmth and enthusiasm. I really appreciated the character and warmth of Chestnut's Victorian building environment. The fact that Chestnut is a smaller more personal setting was attractive to us. Much of my decision on where to pre-book was based on the rehab team. My expectation was not for perfection but it was to be in an environment that was responsive, attentive and empathetic to patient and family needs and concerns. That expectation was met and exceeded at Touchpoints at Chestnut."
~ Leon 'Skip' Cashwell
"She had some experience with Touchpoints previously, when she had fallen and needed to recuperate. When it was time for her to go somewhere more permanent, she wanted to go to Touchpoints. The facility is clean, and the staff is smart. There are two or three that are just outstanding. Everyone from Chris, the receptionist, to every other staff member are great."
~ Spouse of Patient IE (September 2017)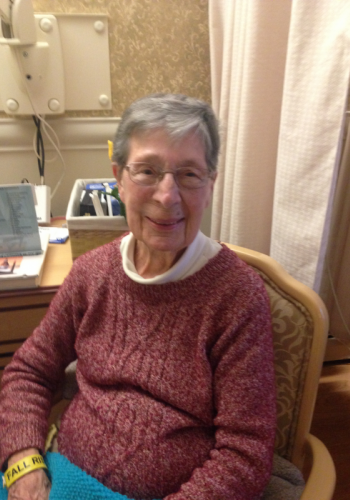 "When I landed in the hospital unexpectedly, and it became apparent I would need some rehab to help me get stronger and learn to manage a life changing medical condition, my first and only choice was Touchpoints at Chestnut. I had been a TAC before for rehabilitation and had a wonderful experience. When people say the "extra mile" that describes my experience at TAC. I had been to another well known rehab facility in the past but they did not even come close to my experience at TAC last time and this time. My overall experience was wonderful. If I expressed even a small concern, it was immediately taken care of. The CNA staff, all shifts, are outstanding! They are kind, caring and attentive. They were always available for me. I wanted to thank each and everyone of the staff in person."
~ Joan Cass (August 2017)
"The facility is smaller and feels more homely and comfortable. The staff all appear to know the patients on a personal level. It feels more personalized and less institutionalized than other facilities. They have a great recreation director. In the program, they encourage a lot of social interaction."
~ Daughter of Resident MF (July 2017)
"I wanted her to go there because it is a very nice facility. I appreciate the way that they have taken care of her very well. I would recommend them for sure. It is great, and we have had a great experience."
~ Daughter in Law of Resident VF (July 2017)
"I will miss all of the wonderful staff at Chestnut. I have loved working with the therapy department and I can't wait to come back to visit and see all of their friendly faces."
~ Benjamin Sementilli
"During my stay at Chestnut I have been very happy in the beautiful homelike environment that Touchpoints has to offer. The rooms are very comfortable and beautiful. Most importantly I am thankful to have had such kind, understanding, and caring staff, who have helped me reach my goal of returning to my own home."
~ Ella Chapman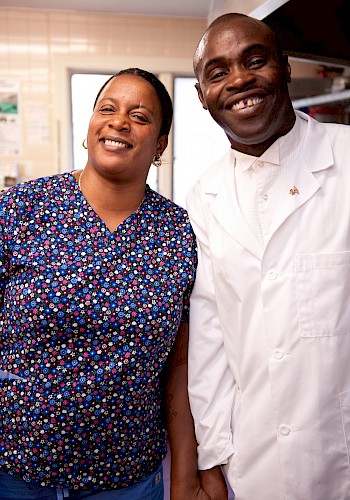 "I am proud to say that I have been employed with Touchpoints at Chestnut for almost 10 years. As a cook I take great pride in each meal I prepare for our residents. I truly enjoy interacting with each resident during their meals."
~ Francis Henry
"The staff is very caring. I find that I can go to anybody and get my questions answered. If I request them to do something or find something, they come right back to me with it. They work very hard to provide different programs along with the seasons. They bring in people in musical groups. They have craft groups. I believe there are religious times that are part of the program."
~ Husband of Resident PC (December 2016)
"It is a marvelous place, as far as I am concerned. She loves the décor of the place as it reminds her of my aunt's home, as far as the style and age of it. I feel comfortable with her being there. They always have answers when I have questions. I cannot imagine anywhere better than Touchpoints."
~ Husband of MH (November 2016)
"Everyone was great. I didn't have any issues. I thought the care was good, and I would go back if I had to. There was a mid-shift nurse there, Lynn Parentau. She stands out the most to me. She went above and beyond, and I felt very comfortable talking to her. They were all very pleasant, but she stands out. If I asked anyone a question, they would always get back to me with an answer. Overall, it is a great facility. If I had to go back there, I would."
~ Patient SK (May 2017)
"I appreciate how well they treated the residents. I would recommend it to anyone. I would tell them that it's an excellent place to receive great care. If I need someone to help me, It's important that they do. Touchpoints did a great job at that, so please tell them to keep up the good work."
~ Patient DJ (May 2017)
"We want to thank every one of you for the love and care you showed our Mom when she was with you. The nurses and CNAs were so attentive to her physical and personal needs, we never worried about her care. The kitchen, maintenance and laundry staff were always professional and offered smiles and pleasantries to our mother and family. Her room was cleaned thoroughly and with great care and consideration during our visits. You are doing more than just your jobs, you are impacting people's lives for the better."
~ Family of Resident MF (July 2017)